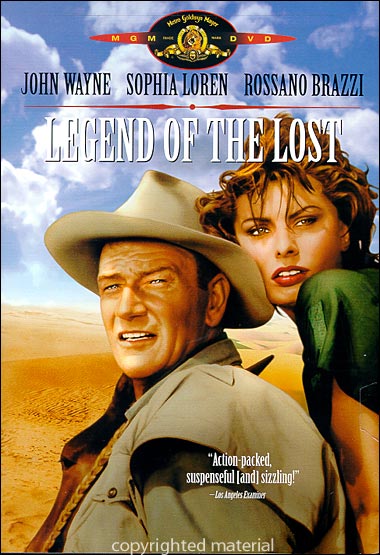 Kod:

http://www.imdb.com/title/tt0050629
"A first-class adventure! Exotic background, action, mystery
and intrigue." -The Hollywood Reporter
/> Told against the sweeping panoramas of the Sahara desert, this
star-studded epic features an exotic mix of action, suspense, and
romance. Famed for its "stunning" (
The Hollywood
Reporter
) location cinematography,
Legend of the
Lost
delivers a caravan of excitement- with the indomitable
John Wayne leading the way.
Wayne is Joe January, a
hard drinking, hard living guide. When Paul Bonnard (Rossano Brazzi)
hires him to find his father and a legendary lost treasure, the two set
out into the isolated wasteland of the North African desert. Joining
them is Dita (Sophia Loren), a prostitute desperate to find a new life
who comes between both men as they battle for survival.... and their
souls.
Paul Bonnard arrives in Timbuktu in search of a guide to escort him
into the Sahara desert. American Joe January takes the job despite
misgivings about Bonnard's plans. Dita, a prostitute who has been
deeply moved by what appears to be Bonnard's spiritual nature, follows
the two men into the desert. Eventually the trio arrives in the ruins
of a lost city, where Bonnard hopes to find the treasure his father
sought years earlier before disappearing. But what Bonnard finds alters
him in unexpected ways, with tragic results. Written by Jim Beaver
John Wayne stars in this epic Western famed for its stunning
cinematography. Wayne is Joe January, a hard-drinking, hard-living
guide hired to find his employer's (Rossano Brazzi) father and a
legendary, long-lost treasure. The two men set out into the isolated
wasteland of the North African desert accompanied by Dita (Sophia
Loren), a sultry prostitute who drives the men crazy and comes between
them even as they battle for survival.
***
First the bad: a very thin plot and a slow pace. The movie starts out
great in Timbuktu, but then does run into a few dull spots in the
desert. The good: John Wayne is in fine form and cast correctly. Sophia
Loren plays a complex character, a prostitute who is fed up with her
life and serious about changing it. Her acting is great, and her part
is written realistically. Rossano Brassi also performs admirably. I'm a
big fan of both Wayne and Loren, so I didn't mind the weak plot. And
some of the dialog is priceless. Definitely better than a lot of
treasure-hunt flicks. I'm glad I found this "lost" film.
****
I first saw this as a young girl and remembered how beautiful Sophia
was, and still is, and the Duke was rugged, handsome and as always one
of my favorite actors. A different role for the Duke - not a western,
or military film, but a fun adventure film.
****
Interesting John Wayne action pic. A little different than most in that
Wayne is paired with Italian stars Rosanno Brazzi and Sophia Loren, two
performers who were "hot" in the U.S. in 1957. Video quality is
excellent.
Filename:
LegOfTLost2cd(1957).avi
File Size:
cd1=698MB, cd2=702MB
Video Track #1:
FOURCC: "XVID" (XviD Mpeg-4 Video)
720x320, 23,976025 fps
Audio Track #1:
FormatTag : "8192" (Dolby AC3 Audio)
2 channels, 48000Hz
Language:
English
Sample
Kod:

http://rapidshare.com/files/90818958/LegOfTLost2cd_1957_.cd1_chunk_1.avi
Kod:

cd1
http://rapidshare.com/files/90886252/LegOfTLost2cd_1957_.cd1.part1.rar
http://rapidshare.com/files/90853582/LegOfTLost2cd_1957_.cd1.part2.rar
http://rapidshare.com/files/90858985/LegOfTLost2cd_1957_.cd1.part3.rar
http://rapidshare.com/files/90863916/LegOfTLost2cd_1957_.cd1.part4.rar
http://rapidshare.com/files/90869087/LegOfTLost2cd_1957_.cd1.part5.rar
http://rapidshare.com/files/90874458/LegOfTLost2cd_1957_.cd1.part6.rar
http://rapidshare.com/files/90879514/LegOfTLost2cd_1957_.cd1.part7.rar
http://rapidshare.com/files/90880687/LegOfTLost2cd_1957_.cd1.part8.rar
cd2
http://rapidshare.com/files/90936409/LegOfTLost2cd_1957_.cd2.part1.rar
http://rapidshare.com/files/90892328/LegOfTLost2cd_1957_.cd2.part2.rar
http://rapidshare.com/files/90898443/LegOfTLost2cd_1957_.cd2.part3.rar
http://rapidshare.com/files/90904758/LegOfTLost2cd_1957_.cd2.part4.rar
http://rapidshare.com/files/90911070/LegOfTLost2cd_1957_.cd2.part5.rar
http://rapidshare.com/files/90917625/LegOfTLost2cd_1957_.cd2.part6.rar
http://rapidshare.com/files/90925264/LegOfTLost2cd_1957_.cd2.part7.rar
http://rapidshare.com/files/90927393/LegOfTLost2cd_1957_.cd2.part8.rar
Filename:
LegOfTLost1cd(1957).avi
File Size:
717MB
Video Track #1:
FOURCC: "XVID" (XviD Mpeg-4 Video)
608x272, 23,976025 fps
Audio Track #1:
FormatTag : "85" (MPEG-1 Layer-3 Audio (mp3))
2 channels, 48000Hz
Language:
English
Sample
Kod:

http://rapidshare.com/files/90824221/LegOfTLost1cd_1957__chunk_1.avi
Kod:

http://rapidshare.com/files/91024600/LegOfTLost1cd_1957_.part1.rar
http://rapidshare.com/files/91042980/LegOfTLost1cd_1957_.part2.rar
http://rapidshare.com/files/90946423/LegOfTLost1cd_1957_.part3.rar
http://rapidshare.com/files/90955339/LegOfTLost1cd_1957_.part4.rar
http://rapidshare.com/files/90962005/LegOfTLost1cd_1957_.part5.rar
http://rapidshare.com/files/90975111/LegOfTLost1cd_1957_.part6.rar
http://rapidshare.com/files/90997413/LegOfTLost1cd_1957_.part7.rar
http://rapidshare.com/files/91001839/LegOfTLost1cd_1957_.part8.rar
Urednik




Broj poruka

: 1018


Datum upisa :

04.04.2008




---
Dozvole ovog foruma:
Ne možete
odgovarati na teme u ovom forumu