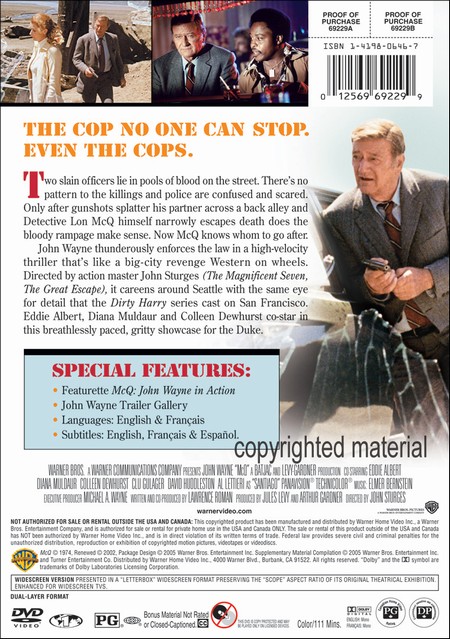 Kod:

http://www.imdb.com/title/tt0071824
The Cop No One Can Stop... Even The Cops.
/>
Two slain officers lie in pools of blood on the
street. There's no pattern to the killings and police are confused and
scared. Only after gunshots splatter his partner across a back alley
and Detective Lon McQ himself narrowly escapes death does the bloody
rampage make sense. Now McQ knows whom to go after.
John Wayne thunderously enforces the law in a high-velocity thriller
that's like a big-city revenge Western on wheels. Directed by action
master John Sturges (
The Escape
), it careens around Seattle with the same eye for
detail that the
Dirty Harry
series cast on San
Francisco. Eddie Albert, Diana Muldaur and Colleen Dewhurst co-star in
this breathlessly paced, gritty showcase for the
Duke.
In Seattle, two uniformed police officers and plainclothesman Stan
Boyle are found shot, the two uniformed officers to death, early one
morning. Boyle's partner, Lt. Lon McQ, is certain local hood Manuel
Santiago is behind these killings, especially after a known hitman
employed by Santiago tries to kill McQ. Defying the orders of his
superior, Captain Ed Kosterman, McQ tails Santiago. After
confrontations with both Santiago and Kosterman and despite the
sympathy of city councilman Franklin Toms, McQ enlists the help of
private detective "Pinky" Farrell, and soon becomes involved in a major
narcotics deal - one that blows up in the face of both McQ and Santiago
and which leads to the discovery of a stunning secret for McQ. Written
by Michael Daly
John Wayne flexes his considerable muscle as seasoned Seattle cop Lon
McQ in this gritty crime flick from director John Sturges. When a drug
deal goes sour, resulting in the murder of McQ's partner, the detective
quits the force after his boss (Eddie Albert) yanks him off the case.
Determined to continue the inquiry, McQ hooks up with a private eye
(David Huddleston) to collar the killer -- with plenty of car chases
and smashups along the way.
*****
Great 70's thriller. John Wayne at his best. Cool weapons, good story
line, nice ending. I recommend viewing it if you are a John Wayne fan.
****
It's always nice to see John Wayne act outside of his genre and
especially enjoyable to see him take up an UZI. Although this film is
dated, it's worth watching as McQ struggles to do the right thing in a
totally corrupt world. Some exciting driving sequences and the typical
John Wayne humor make this film worth watching. This is the stuff
Tarantino emulates.
****
This moive is action, action, action, with one of the greatest endings
to this style cop movie ever made. Althought John Wayne was in the
final years of his life when this movie was made, he made a very
entertaining movie to watch. So grab a bottle of wine or a six pack of
beer, some snacks and a few of your buddy's. if you liked Dirty Harry,
you'll love this movie.
Whole Movie 2CDs Filename:
McQ2cd.avi
File Size:
cd1 = 699.52 MB cd2 = 700.78 MB
Video Track #1:
FOURCC: "XVID" (XviD Mpeg-4 Video)
720x304, 23,976025 fps
Audio Track #1:
FormatTag : "8192" (Dolby AC3 Audio)
1 channels, 48000Hz
Language:
English
Kod:

http://rapidshare.com/files/92682657/McQ2cd.cd1_chunk_1.avi
Kod:

cd1
http://rapidshare.com/files/92274822/McQ2cd.cd1.part1.rar
http://rapidshare.com/files/92359534/McQ2cd.cd1.part2.rar
http://rapidshare.com/files/92367190/McQ2cd.cd1.part3.rar
http://rapidshare.com/files/92375392/McQ2cd.cd1.part4.rar
http://rapidshare.com/files/92383009/McQ2cd.cd1.part5.rar
http://rapidshare.com/files/92390521/McQ2cd.cd1.part6.rar
http://rapidshare.com/files/92398289/McQ2cd.cd1.part7.rar
http://rapidshare.com/files/92400010/McQ2cd.cd1.part8.rar

cd2
http://rapidshare.com/files/92405967/McQ2cd.cd2.part1.rar
http://rapidshare.com/files/92412426/McQ2cd.cd2.part2.rar
http://rapidshare.com/files/92419334/McQ2cd.cd2.part3.rar
http://rapidshare.com/files/92256402/McQ2cd.cd2.part4.rar
http://rapidshare.com/files/92259979/McQ2cd.cd2.part5.rar
http://rapidshare.com/files/92263789/McQ2cd.cd2.part6.rar
http://rapidshare.com/files/92268237/McQ2cd.cd2.part7.rar
http://rapidshare.com/files/92269697/McQ2cd.cd2.part8.rar
Whole Movie 1CD
Filename:
McQ1cd.avi
File Size:
700.23 MB
Video Track #1:
FOURCC: "XVID" (XviD Mpeg-4 Video)
640x272, 23,976025 fps
Audio Track #1:
FormatTag : "85" (MPEG-1 Layer-3 Audio (mp3))
2 channels, 48000Hz
Language:
English
Kod:

http://rapidshare.com/files/92426095/McQ1cd.part1.rar
http://rapidshare.com/files/92432816/McQ1cd.part2.rar
http://rapidshare.com/files/92438927/McQ1cd.part3.rar
http://rapidshare.com/files/92445153/McQ1cd.part4.rar
http://rapidshare.com/files/92450753/McQ1cd.part5.rar
http://rapidshare.com/files/92456172/McQ1cd.part6.rar
http://rapidshare.com/files/92461396/McQ1cd.part7.rar
http://rapidshare.com/files/92462475/McQ1cd.part8.rar
Urednik




Broj poruka

: 1018


Datum upisa :

04.04.2008




---
Dozvole ovog foruma:
Ne možete
odgovarati na teme u ovom forumu