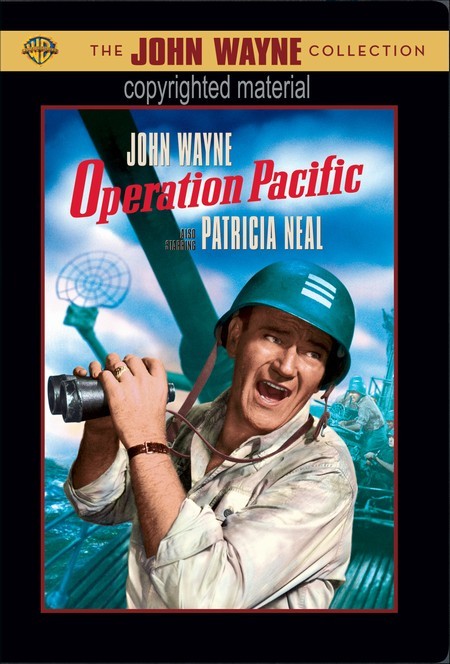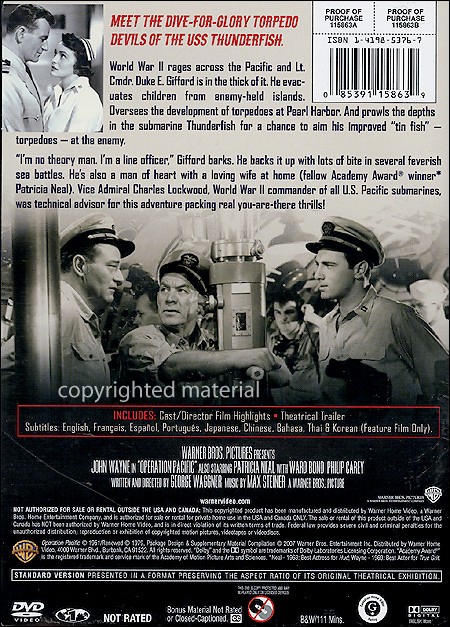 Kod:

http://www.imdb.com/title/tt0043887
Meet the dive-for-glory torpedo devils of the USS
Thunderfish.
World War II rages
across the Pacific and Lt. Cmdr. Duke E. Gifford is in the thick of it.
He evacuates children from enemy-held islands. Oversees the development
of torpedoes at Pearl Harbor. And prowls the depths in the submarine
Thunderfish for a chance to aim his improved "tin fish"-torpedoes-at
the enemy.
John Wayne plays Gifford in
Operation Pacific
. "I'm no theory man. I'm a line
officer," Gifford barks. He backs it up with lots of bite in several
feverish sea battles. He's also a man with a loving wife at home
(fellow Academy Award winner Patricia Neal). Vice Admiral Charles
Lockwood, World War II commander of all U.S. Pacific submarines, was
technical advisor for this adventure packing real you-are-there thrills!
Submarine commander Duke Gifford feels guilty in the death of his
former commanding officer, as well as about his failed marriage. These
issues pull at him during a hazardous mission against the Japanese in
World War II. Written by Jim Beaver
This movie is an excellent submarine movie that combines excellent and
generally believable action with a decent back-story. John Wayne is the
second in command on a sub and he's become reacquainted with his
ex-wife, Patricia Neal. His trying to win her back and his difficulties
with expressing himself is handled more credibly than most Wayne
characters, as he is vulnerable and more 3-dimensional than his usual
self. As for the action itself, the movie spends a lot of time on a
lesser-known aspect of US sub warfare--the fact that our torpedoes at
the beginning of the war were often duds. And the subplot involving the
death of the commander is interesting as well. About the only down-side
is that, at times, the sub does rather extraordinary things that no sub
ever did--such as sinking 3 ships in mere minutes--including a sub,
destroyer and an aircraft carrier. With victories like that, we could
have won the war in just a few weeks. BUT, considering this is
counter-balanced with dud torpedoes and the destruction of a fellow
sub, this is a little more realistic than the standard fare.
PS--a cute part of the film is when the crew is watching the movie
OPERATION PACIFIC (with Cary Grant). One of the crewmen comments that
this is a great movie but it was awfully short on realism. Ha.
John Wayne is first officer of the submarine Thunderfish. When he and
ex-wife Patricia Neal meet again after 4 years apart, they long to
recapture that old loving feeling. But when Wayne embarks on a mission
(with dud torpedoes, no less), his best friend's younger brother goes
after Neal. Ward Bond (Wayne's co-star in a clutch of John Ford movies)
plays sub captain "Pop" Perry.
****
Nice World War 2 movie that makes a point about the crappy torpedoes we
had early in the war. I'd have liked it to have spent a little more
time on the fix to the problem after building it up like did. The movie
itself is typical Wayne fare - two guys fighting over one woman and
guess who wins her? There's a nice bit about WW2 sub movies in one
scene and there's about the average amount of actual WW2 footage
intercut into the movie. I did dislike the undersea shots. This sub is
in the middle of the Pacific and most every shot shows them in about
80' of water. This movie isn't anything spectacular, but it's the usual
solid Duke WW2 flick.
****
Look at the cast. This is probably the biggest role Jack Pennick had in
a Wayne movie. Martin Milner of ADAM 12 fame later, is a kid in this
flick!
****
This was a good movie I would say that for a war movie and at the time
it was made was good. people who like john w. movie would injoy it.
Whole Movie 2CDs Filename:
OperPacif(1951)2.avi
File Size:
cd1=700.41 MB cd2=700.09 MB
Video Track #1:
FOURCC: "XVID" (XviD Mpeg-4 Video)
512x384, 23,976025 fps
Audio Track #1:
FormatTag : "8192" (Dolby AC3 Audio)
1 channels, 48000Hz
Language:
English
Kod:

http://rapidshare.com/files/92897935/OperPacif_1951_2.cd1_chunk_1.avi
Kod:

cd1
http://rapidshare.com/files/92758189/OperPacif_1951_2.cd1.part1.rar
http://rapidshare.com/files/92762375/OperPacif_1951_2.cd1.part2.rar
http://rapidshare.com/files/92766856/OperPacif_1951_2.cd1.part3.rar
http://rapidshare.com/files/92776252/OperPacif_1951_2.cd1.part4.rar
http://rapidshare.com/files/92786988/OperPacif_1951_2.cd1.part5.rar
http://rapidshare.com/files/92798325/OperPacif_1951_2.cd1.part6.rar
http://rapidshare.com/files/92812502/OperPacif_1951_2.cd1.part7.rar
http://rapidshare.com/files/92817494/OperPacif_1951_2.cd1.part8.rar

cd2
http://rapidshare.com/files/92828239/OperPacif_1951_2.cd2.part1.rar
http://rapidshare.com/files/92834100/OperPacif_1951_2.cd2.part2.rar
http://rapidshare.com/files/92840220/OperPacif_1951_2.cd2.part3.rar
http://rapidshare.com/files/92846349/OperPacif_1951_2.cd2.part4.rar
http://rapidshare.com/files/92741125/OperPacif_1951_2.cd2.part5.rar
http://rapidshare.com/files/92746653/OperPacif_1951_2.cd2.part6.rar
http://rapidshare.com/files/92752004/OperPacif_1951_2.cd2.part7.rar
http://rapidshare.com/files/92753448/OperPacif_1951_2.cd2.part8.rar
Whole Movie 1CD
Filename:
OperPacif(1951)1.avi
File Size:
700.06 MB
Video Track #1:
FOURCC: "XVID" (XviD Mpeg-4 Video)
464x352, 23,976025 fps
Audio Track #1:
FormatTag : "85" (MPEG-1 Layer-3 Audio (mp3))
2 channels, 48000Hz
Language:
English
Kod:

http://rapidshare.com/files/92875786/OperPacif_1951_1.part1.rar
http://rapidshare.com/files/92882369/OperPacif_1951_1.part2.rar
http://rapidshare.com/files/92890367/OperPacif_1951_1.part3.rar
http://rapidshare.com/files/92853322/OperPacif_1951_1.part4.rar
http://rapidshare.com/files/92859496/OperPacif_1951_1.part5.rar
http://rapidshare.com/files/92864339/OperPacif_1951_1.part6.rar
http://rapidshare.com/files/92869443/OperPacif_1951_1.part7.rar
http://rapidshare.com/files/92870543/OperPacif_1951_1.part8.rar
Urednik




Broj poruka

: 1018


Datum upisa :

04.04.2008




---
Dozvole ovog foruma:
Ne možete
odgovarati na teme u ovom forumu