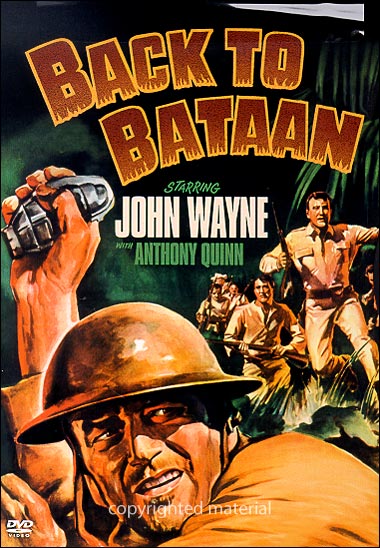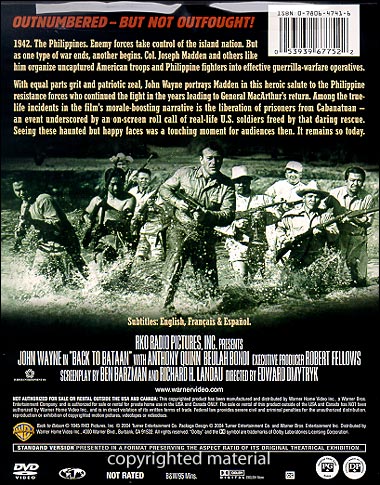 Kod:

http://www.imdb.com/title/tt0037522
Outnumbered-But Not Outfought!
1942. The Philippines. Enemy forces take control of the island nation. But as one type of war ends, anther begins. Col. Joseph Madden and others like him organize uncaptured American troops and Philippine fighters into effective guerilla-warfare operatives.
With equal parts grit and patriotic zeal, John Wayne portrays Madden in this heroic salute to the Philippine resistance forces who continued the fight in the years leading to General MacArthur's return. Among the true life incidents in the film's morale-boosting narrative is the liberation of prisoners from Cabanatuan-an event underscored by an on-screen roll call of real life U.S. soldier freed by that daring rescue. Seeing these haunted but happy faces was a touching moment for audiences then. It remains so today.
After the fall of the Philippines to the Japanese in the early months of World War II, Col. Joe Madden (John Wayne) volunteers to stay behind and organize the Filipino resistance in preparation for Gen. MacArthur's return. Anthony Quinn plays a young Filipino who tries to live up to his father's reputation as a quasi-folk hero in this patriotic flag-waver filmed during World War II.
I agree that this is a terrific movie, and by "History vs. Hollywood" standards rates fairly high. The point of the movie is to characterize the Japanese soldiers as brutal and often sadistic in their treatment of the enemy. In the history of modern warfare, the Japanese in WWII were by far the most inhumane. There is nothing in this movie that is unfair in the portrayal of Japanese treatment of Filipinos. Later, American and other Allied POW's were subjected to even worse horrors. The film also correctly characterizes the Filipinos as tough, hard fighters, and unfortunate victims of a superior Imperialist (militarist) society, which was run by the Japanese Army, and victimized with extreme prejudice. I will disagree with one contributor to this forum who offers that the brutal treatment of Filipinos was one of the reasons for entering the war. Not so. The reason for entering the war was the gradual aggressive military movements of Japan spanning the previous 20 years, culminating in the invasion of China followed by the attack on Pearl Harbor.
****
Excellent patriotic film about a lesser known part of WWII. It highlights the courage and sacrifice of thpose who fought for freedom. I recommend it!
***
Lots of action, lots of propaganda. "Back to Bataan" has everything we look for in standard WWII studio fare. If you're old enough to remember how patriotic it was to relish "Japs" screaming in agony while the good-guys gunned them down, this movie will give you plenty to savor. Richard Loo and Philip Ahn made healthy careers out of playing the Yellow Peril in the days when audiences couldn't tell Chinese or Koreans from Japanese (and didn't much care). The rest of the cast -- even without John Wayne -- is worth the ticket, and RKO's production team puts the show over with drive and efficiency. Uncle Sam helped subsidize these wartime potboilers, and they succeeded better than their makers knew in generating hatred against The Enemy. But many in the film community learned that it's not easy to keep that hatred in check once it's unleashed. Not long after he directed this film, Edward Dmytryk became a casualty of a different war, this time a cold one, when, as a member of the original "Hollywood Ten," that same whipped-up anti-Japanese hysteria became anti-communist, then, turning inward, became anti-American as well.
Whole Movie 2CDs
Filename: backtbatan2.avi
File Size: cd1=700MB cd2=700MB
Video Track #1:
FOURCC: "XVID" (XviD Mpeg-4 Video)
528x400, 23,976025 fps
Audio Track #1:
FormatTag : "8192" (Dolby AC3 Audio)
1 channels, 48000Hz
Language: English
Sample
Kod:

http://rapidshare.com/files/97237500/backtbatan2.cd1_chunk_1.avi
Kod:

cd1
http://rapidshare.com/files/97145534/backtbatan2.cd1.part1.rar
http://rapidshare.com/files/97147004/backtbatan2.cd1.part2.rar
http://rapidshare.com/files/97148694/backtbatan2.cd1.part3.rar
http://rapidshare.com/files/97150299/backtbatan2.cd1.part4.rar
http://rapidshare.com/files/97152155/backtbatan2.cd1.part5.rar
http://rapidshare.com/files/97153953/backtbatan2.cd1.part6.rar
http://rapidshare.com/files/97157898/backtbatan2.cd1.part7.rar
http://rapidshare.com/files/97158473/backtbatan2.cd1.part8.rar

cd2
http://rapidshare.com/files/97160683/backtbatan2.cd2.part1.rar
http://rapidshare.com/files/97162743/backtbatan2.cd2.part2.rar
http://rapidshare.com/files/97164941/backtbatan2.cd2.part3.rar
http://rapidshare.com/files/97167181/backtbatan2.cd2.part4.rar
http://rapidshare.com/files/97169444/backtbatan2.cd2.part5.rar
http://rapidshare.com/files/97171534/backtbatan2.cd2.part6.rar
http://rapidshare.com/files/97174165/backtbatan2.cd2.part7.rar
http://rapidshare.com/files/97174871/backtbatan2.cd2.part8.rar
Or
Whole Movie 1CD
Filename: backtbatan1.avi
File Size: 700MB
Video Track #1:
FOURCC: "XVID" (XviD Mpeg-4 Video)
432x320, 23,976025 fps
Audio Track #1:
FormatTag : "85" (MPEG-1 Layer-3 Audio (mp3))
2 channels, 48000Hz
Language: English
Kod:

http://rapidshare.com/files/97133120/backtbatan1.part1.rar
http://rapidshare.com/files/97134995/backtbatan1.part2.rar
http://rapidshare.com/files/97136773/backtbatan1.part3.rar
http://rapidshare.com/files/97138419/backtbatan1.part4.rar
http://rapidshare.com/files/97139975/backtbatan1.part5.rar
http://rapidshare.com/files/97141718/backtbatan1.part6.rar
http://rapidshare.com/files/97143657/backtbatan1.part7.rar
http://rapidshare.com/files/97144018/backtbatan1.part8.rar
Urednik




Broj poruka

: 1018


Datum upisa :

04.04.2008




---
Dozvole ovog foruma:
Ne možete
odgovarati na teme u ovom forumu