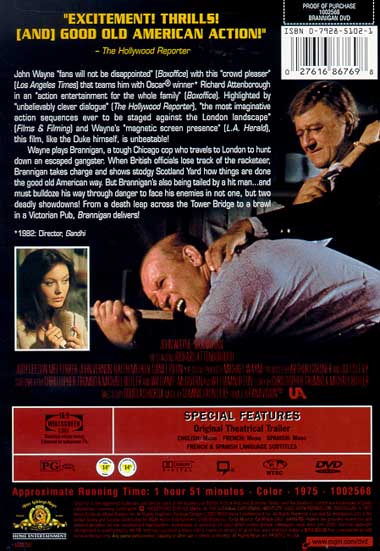 Kod:

http://www.imdb.com/title/tt0072732
"Excitement! Thrills! [And] Good Old American Action!" -The Hollywood Reporter
John Wayne "fans will not be disappointed" (
Boxoffice
) with this "crowd pleaser" (
Los Angeles Times
) that teams him with Oscar® winner Richard Attenborough in an "action entertainment for the whole family" (
Boxoffice
). Highlighted by "unbelievably cleaver dialogue" (
The Hollywood Reporter
), "the most imaginative action sequences ever to be staged against the London landscape" (
Films & Filming
) and Wayne's "magnetic screen presence" (
L.A. Herald
), this film, like the Duke himself, is unbeatable!
Wayne plays Brannigan, a tough Chicago cop who travels to London to hunt down an escaped gangster. When British officials lose track of the racketeer, Brannigan takes charge and shows stodgy Scotland Yard how things are done the good old American way. But Brannigan's also being tailed by a hit man…and must bulldoze his way through danger to face his enemies in not one, but two deadly showdowns! From a death leap across the Tower Bridge to a brawl in a Victorian Pub, Brannigan delivers!
Jim Brannigan is sent to London to bring back an American mobster who is being held for extradition but when he arrives he has been kidnapped which was set up by his lawyer. Brannigan in his American Irish way brings American law to the people of Scotland Yard in order to recapture this mobster with both A price tag on his head and a stuffy old London cop to contend with. Written by Christopher D. Ryan
Taking a cue from Coogan's Bluff, John Wayne is Lt. Jim Brannigan, a tough Chicago lawman who arrives in London on the trail of a fugitive crime boss (John Vernon). Scotland Yard's Cmdr. Sir Charles Swann (Richard Attenborough, who later directed Gandhi) clashes with Brannigan's uncouth Yankee style of gang-busting. Mel Ferrer, Ralph Meeker and Judy Geeson (To Sir With Love) co-star. This is Wayne's second-to-last film role.
*****
A Fine example of the world of 1975. Before Spielberg ruined Hollywood with JAWS there was a place for Family friendly type films. This is a fun one with an aging, yet still virile, John Wayne slamming skulls in London pubs. "Dean Wormer" of Animal House fame is a Mafioso on the run in Foggy London town with a "McQ" meets Dirty Harry Duke Wayne hot on his trail. The TV Copshow music is priceless. Sort of a mixture of San Francisco band The JELLYFISH and a chimpanzee let loose in an electronics store - really extra, super funky with heavy reverb wah-wah pedal guitar every time John Wayne is on screen. Great Action sequences reminiscent of the James Bond films of the era with a similiar tongue in cheek travelogue feel. Fantastic, "must see",campy film for all John Wayne and Beastie Boys "Sabotage" video fans!
Whole Movie 2CDs
Filename: branigan2.avi
File Size: cd1=699MB cd2=700MB
Video Track #1:
FOURCC: "XVID" (XviD Mpeg-4 Video)
672x288, 23,976025 fps
Audio Track #1:
FormatTag : "8192" (Dolby AC3 Audio)
2 channels, 48000Hz
Language: English
sample
Kod:

http://rapidshare.com/files/97133657/branigan2.cd1_chunk_1.avi
Kod:

cd1
http://rapidshare.com/files/97097678/branigan2.cd1.part1.rar
http://rapidshare.com/files/97100452/branigan2.cd1.part2.rar
http://rapidshare.com/files/97103066/branigan2.cd1.part3.rar
http://rapidshare.com/files/97105355/branigan2.cd1.part4.rar
http://rapidshare.com/files/97107656/branigan2.cd1.part5.rar
http://rapidshare.com/files/97109781/branigan2.cd1.part6.rar
http://rapidshare.com/files/97111801/branigan2.cd1.part7.rar
http://rapidshare.com/files/97112447/branigan2.cd1.part8.rar

cd2
http://rapidshare.com/files/97114919/branigan2.cd2.part1.rar
http://rapidshare.com/files/97117086/branigan2.cd2.part2.rar
http://rapidshare.com/files/97119120/branigan2.cd2.part3.rar
http://rapidshare.com/files/97121007/branigan2.cd2.part4.rar
http://rapidshare.com/files/97122795/branigan2.cd2.part5.rar
http://rapidshare.com/files/97124770/branigan2.cd2.part6.rar
http://rapidshare.com/files/97126512/branigan2.cd2.part7.rar
http://rapidshare.com/files/97127120/branigan2.cd2.part8.rar
Or
Whole Movie 1CD
Filename: branigan1.avi
File Size: 700MB
Video Track #1:
FOURCC: "XVID" (XviD Mpeg-4 Video)
608x256, 23,976025 fps
Audio Track #1:
FormatTag : "85" (MPEG-1 Layer-3 Audio (mp3))
2 channels, 48000Hz
Language: English
Kod:

http://rapidshare.com/files/97076181/branigan1.part1.rar
http://rapidshare.com/files/97079264/branigan1.part2.rar
http://rapidshare.com/files/97082327/branigan1.part3.rar
http://rapidshare.com/files/97085320/branigan1.part4.rar
http://rapidshare.com/files/97088086/branigan1.part5.rar
http://rapidshare.com/files/97091054/branigan1.part6.rar
http://rapidshare.com/files/97094095/branigan1.part7.rar
http://rapidshare.com/files/97094721/branigan1.part8.rar
Urednik




Broj poruka

: 1018


Datum upisa :

04.04.2008




---
Dozvole ovog foruma:
Ne možete
odgovarati na teme u ovom forumu